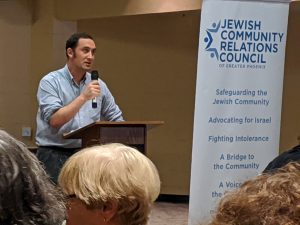 The JCRC was honored with being featured as a front-page story in the October 4, 2019 edition of the Jewish News.  Check out the article, "Nine months of progress for Jewish Community Relations Council" by Nick Enquist:
In January, the Jewish Community Relations Council of Greater Phoenix hired its new executive director, Paul Rockower.
When he took the position, Rockower wanted the JCRC to be both a uniting force in the Valley's Jewish community and an ambassador to other communities. Now, nine months in, he feels that the organization is closer to achieving those goals.
"We have been listening to our partners in the Jewish community and outside the Jewish community to figure out how we can build and strengthen Jewish community relations internally and externally," Rockower said. "We are striving to create a more cohesive and collaborative Jewish community. Meanwhile, we are working to be present at the causes and events that matter to our partners in the broader community, and how to help them engage with programs in the Jewish community and the issues we face."
Although not from Phoenix originally, Rockower has spent the last nine months learning about the local Jewish ecosystem. With a long career in public diplomacy, he had the necessary experience to leverage the Phoenix Jewish community's "soft power," as he wrote in an op-ed in these pages when he came onboard, and has consequently been working to identify community resources and institutional strengths.
"The more we can utilize our soft power to strengthen Phoenix civil society and our ties with it, the better off we will be," Rockower said.
The JCRC's recently elected board chair, Adam Goodman, appreciates Rockower's attention to communal connection.
"At the JCRC, we believe that all work is done through relationships, so building relationships has been our focus," Goodman said. "As the JCRC develops a rapport with other community organizations, we are learning about their priorities and how the JCRC can be supportive of their ambitions and needs."
Goodman was elected chair in May; Dr. Erika Neuberg was elected as vice chair. Since then, the JCRC has been at the forefront of several events to promote dialogue between communities, including the Smart Justice Cafe and the interfaith concert "A Celebration of Spirit: Strengthening Our Common Bonds Through Music and Faith."
The concert, which took place in June, served to build bridges between the Phoenix area's Jewish and African-American communities through gospel and Jewish liturgical music. The Arizona Jewish Historical Society and Pilgrim Rest Baptist Church — where the concert was held — co-sponsored the interfaith concert.
September's Smart Justice Cafe was a collaborative effort between the JCRC, the ACLU of Arizona and the Arizona Faith Network to educate the Jewish community about America's criminal justice system. The event focused on examining prison reform through a Jewish lens and brought in a few Phoenix residents whose lives had been directly affected by the prison system.
Such events promote mutually supportive relationships between Jewish and non-Jewish communities.
"When events affect their communities, we are by their side," said Rockower, "and when events affect the Jewish community, we have their support."
Goodman added, "One of our values is 'inclusiveness,' and that requires us to take a supportive role to help other organizations to succeed. We are developing the skill of finding gaps where we can lend our expertise, network and reach."
One of the JCRC's key initiatives is alerting other faith and ethnic communities to the dangerous realities of growing anti-Semitism, as well as acknowledging that hate and xenophobia threaten all communities in the greater Phoenix area.
"The JCRC serves an important role in building community relations, internally and externally," Rockower said. "As we navigate through a turbulent period, the Jewish community will be strengthened by having a more cohesive internal dynamic, and strong partners and strong coalitions so that we do not have to face challenges alone."
As for future projects, the JCRC has some heady goals.
"The immediate future will keep us focused on deepening relationships in faith and ethnic communities, building a network of media contacts and establishing a presence with civic leaders in municipal, state and federal government," Goodman said. "In the long term, we can seek to create a civil, respectful and inclusive community that is free from anti-Semitism."