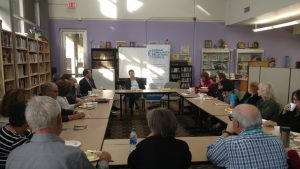 The Jewish Community Relations Council was honored to host the distinguished former German diplomat Stefan Schlüter for a briefing and discussion on the relationship between Germany and its Jewish community, as well as Germany's connections to Israel and the Jewish Diaspora.
This program offered a powerful opportunity to learn more about the spectre of rising anti-Semitism and populism both in Germany and throughout Europe.
Herr Schlüter, who has held high-ranking diplomatic posts in the United States, Israel, South America, and North Africa, has engaged with Jewish communities throughout his career.
This type of people-to-people exchange is vital for our community to help us better understand the complicated historical dynamics of the German-Jewish relationship, and offers context to understand the trends that the Global Jewish community faces.
Thanks to the American Council on Germany for helping to facilitate this program.