The Arizona Nonprofit Security Grant Program (SB1713), sponsored by AZ State Senator David Gowan and supported by the Arizona Faith Network, passed the Arizona State Senate today in bipartisan fashion. We thank Senator Gowan for his leadership on this vital bill.
The state-based nonprofit security grant program will offer small and medium-sized houses of worship access to stream-lined security funding, and will complement the federal program in support of vital security.
The JCRC of Greater Phoenix is proud to partner with the Arizona Faith Network to help spearhead this initiative. We honor other partners supporting the efforts, including the Center for Jewish Philanthropy, JCRC of Tucson & Southern Arizona, and the Board of Rabbis of Greater Phoenix. We further honor the support of Jewish Federations of North America (JFNA), who helped support the launch of these efforts.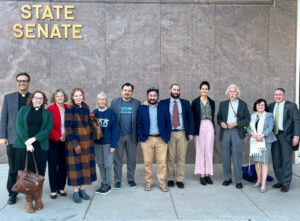 We further honor those participating in the campaign, including the Anti-Defamation League of Arizona, AZ Jews for Justice, Christians United for Israel (CUFI) AZ, and the American Jewish Committee LA Regional Office.
We are particularly grateful for the deft work of Goodman Schwartz Public Affairs to help guide the bill's passage through the Arizona Senate.
The bill will continue on to the AZ House.  We urge you to reach out to your AZ House representatives to support this vital bill to help provide accessible security support for all vulnerable faith communities across Arizona.
======
Read more on SB 1713 in the Jewish News article, "AZ Senate passes funding bill to protect synagogues, others from terror attacks, hate crimes"